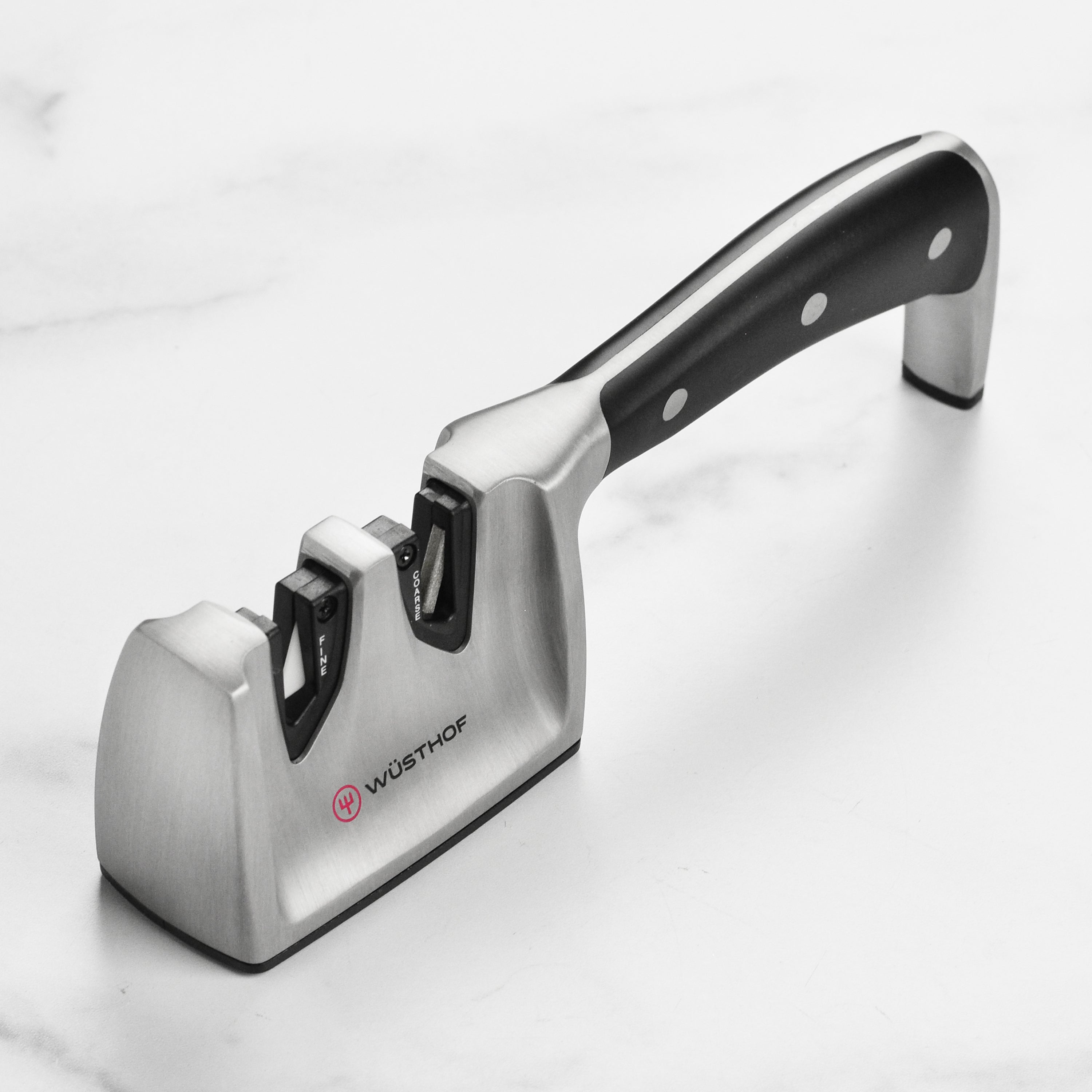 Wusthof 2 Stage Stainless Steel Hand-Held Knife Sharpener
In Stock • Ships in 24 Hours
Features
Designed for sharpening all varieties of knives, producing a cutting angle of 14° on each side (28° total)
Coarse diamond stage is recommended for dull and blunt knife blades
Fine ceramic stage is suitable for both fine sharpening followed by coarse sharpening, or regular resharpening
The ceramic slats grind the blade to regain its original sharpness
Ergonomic handle and the non-slip base of the knife sharpener ensure safe handling; for left and right-handed users
Made in China
Description
The Wusthof Classic Ikon 2-stage Stainless Steel Hand-Held Knife Sharpener produces a cutting angle of 14° on each side (28° total) suitable for sharpening all varieties of knives. The coarse diamond stage is recommended for dull and blunt knife blades, while the fine ceramic stage is suitable for finishing the edge after using the coarse stage or when you want to an edge that is already somewhat sharp. The ceramic slats grind the blade to regain its original sharpness. Knives with a serrated edge should only be sharpened using the Coarse stage in order to remove any burrs that may have developed. The blade of the knife is inserted vertically into the slot with the grinding slats. The rear end of the blade is placed between the slats and pulled gently through to the tip, keeping the blade straight, meanwhile, the handle of the device should be held with the other hand. The ergonomic handle and the non-slip base of the knife sharpener ensure safe handling. The process is repeated depending on the bluntness of the blade. In order to achieve the best possible result, the knife blades should be cleaned before and after every grinding process.
Specs
Made in China

Handle Construction: Stainless steel with black grip
Interior Construction: Coarse diamond and fine ceramic
Stages: 2
Angle: 14 degrees

Length x Width: 8.25" x 1.5"
Height: 2.5"
Item number: 3060388001
Total 5 star reviews: 13
Total 4 star reviews: 0
Total 3 star reviews: 0
Total 2 star reviews: 1
Total 1 star reviews: 0
93%
would recommend this product
What is your gender?

Female

It Really Works !!

An old knife sharpener after much use does more harm than good. That's where I was at when I ordered this new sharpener and I couldn't believe the improvement over my older Wusthof hand-held model. I will never wait as long again before getting a replacement.

What is your cooking skill level?

Advanced

What is your gender?

Female

Easy to use.

Very easy to use and does a great job.

What is your cooking skill level?

Advanced

What is your gender?

Male

New School

I am Old School with water sharpening stones. My grandfather from the old country taught me. I was headed that way, did extensive research on Wusthof, its steel, and finding an excellent stone company. It is an investment if you go in this direction. Then I gifted to my eldest sister several Wusthof knives and gave her the 4 channel Wusthof hand sharpener. The results were outstanding. Starting on my own collection, although I have a Wusthof honing steel, spending several hundred dollars on sharpening stones became an issue, not because of cost but due to occupying more space and the time spent both on setup, sharpening, cleanup. I decided on the New School, this Classic Ikon 2-stage. So if you are in a predicament about which to choose, this way is a great alternative; for now it will you save you a bundle, and not only that it works! This is made specifically for the Wusthof 14 degree bevel. Sturdy. Keep it simple: Go with the folks that made your knives. Later on add the stones if needed. The double bolster at the heel of the Classic knife blade does not get in the way of the Ikon sharpener. If it is an issue fo r you, do not purchase the Wusthof classic series, buy the 1 1/2 bolster design and enjoy those sharpening stones!

What is your cooking skill level?

Intermediate

What is your gender?

Male

Exactly what I was looking for!

Love this sharpener. I have the Classic Ikon knives and had a generic sharpener that left me guessing if I was using the correct degree for my blades edge. This puts the exact factory angle on my blade edge, super sharp!

Rick the drummer 6.

Verified Buyer

What is your cooking skill level?

Advanced

What is your gender?

Male

so pleased

bought my knives about a month ago and got the sharpner ....2 stage with handle....awesome....will be getting the clever soon
Reviews Loaded
Reviews Added