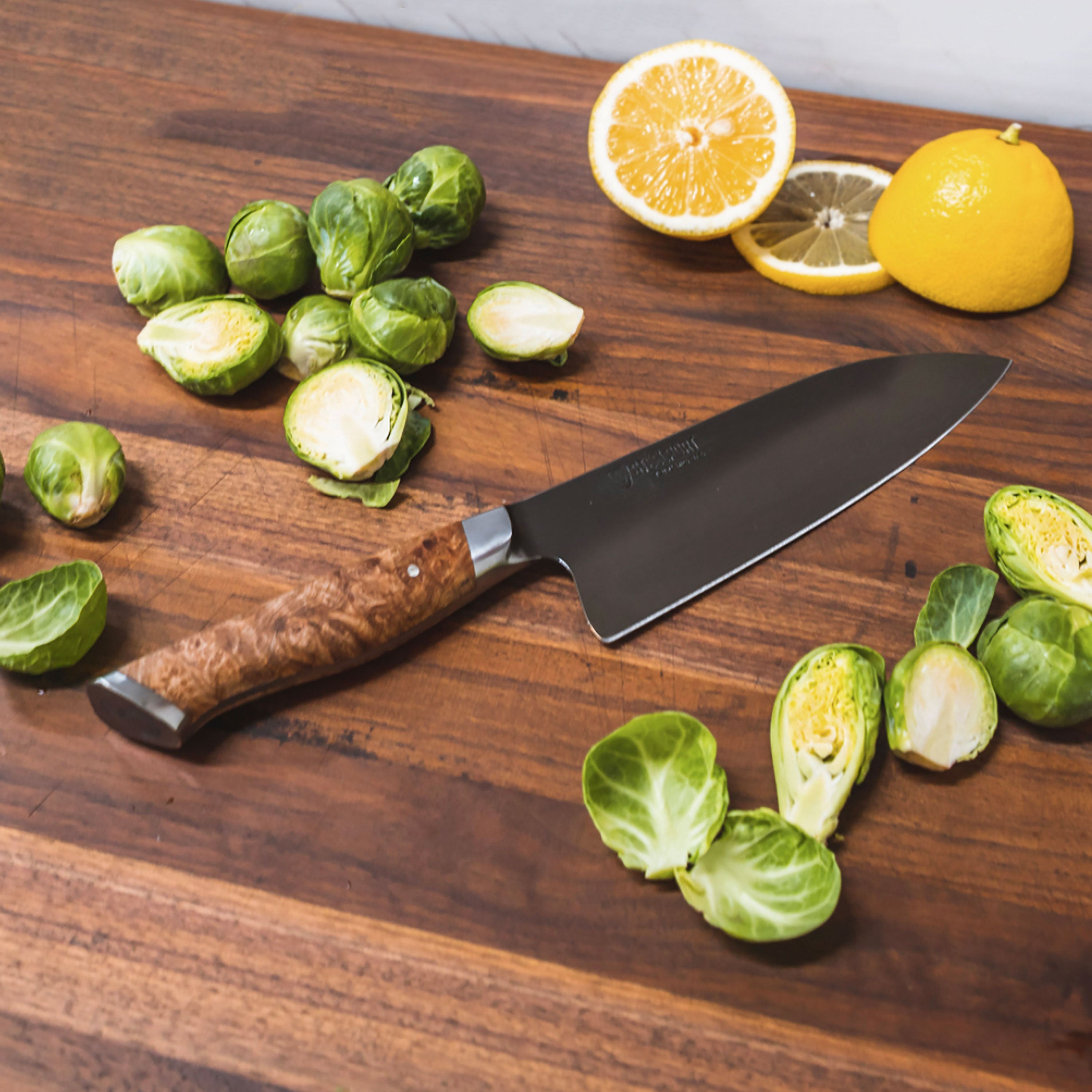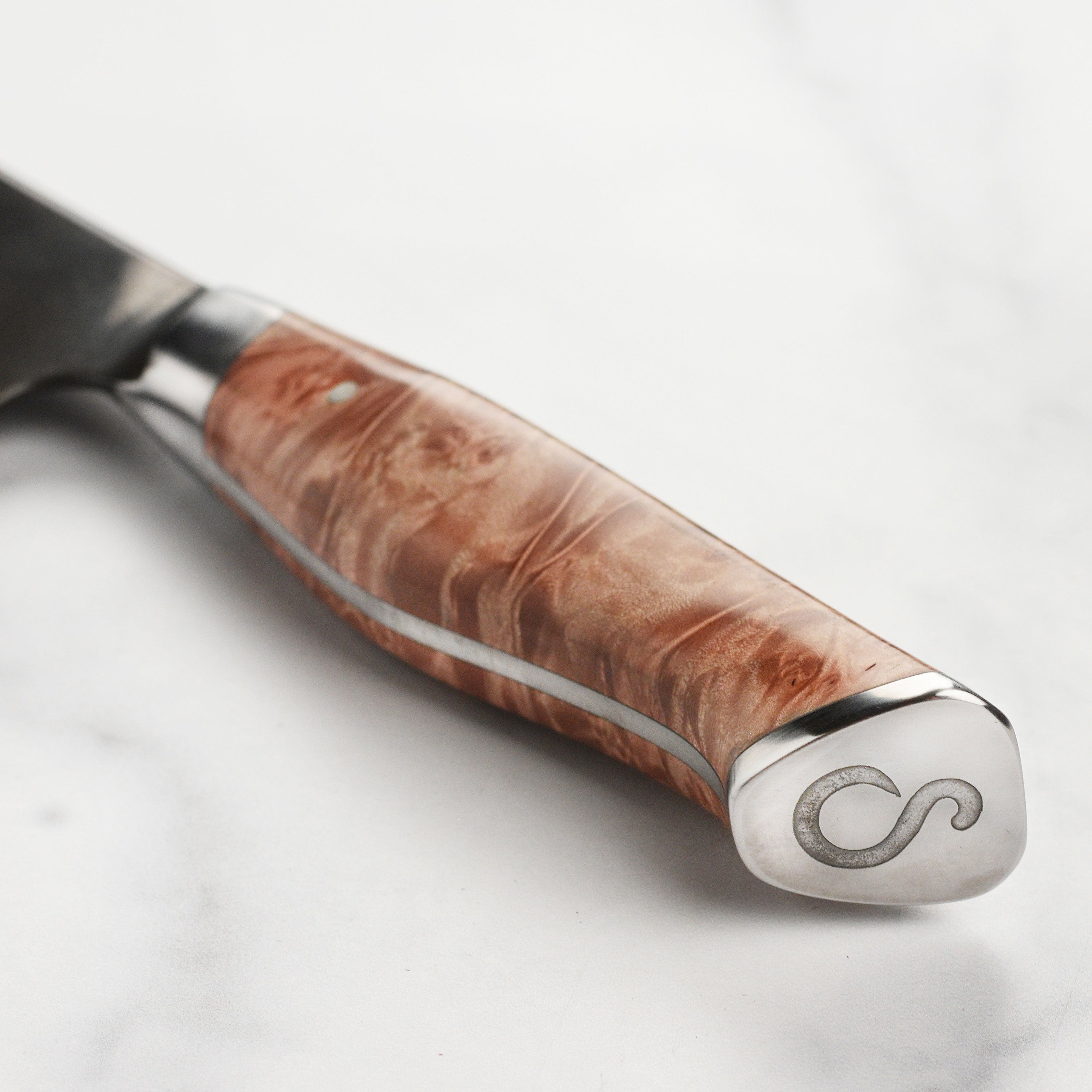 Steelport Carbon Steel 6" Chef's Knife with Oregon Maple Magnetic Sheath
Low Stock • Only 6 left • Ships in 24 Hours
Features
Forged, full tang solid one-piece construction from blade tip to end cap for a well balanced and longer lasting knife; double bevel 15° blade angle

American 52100 carbon steel with 65 Rockwell Hardness; proprietary heat treatment and Cryo process results in a fine grained wear-resistant blade with exceptional sharpness and hardness without becoming brittle and maintains a softer spine for overall durability

Half-octagonal top handle shaped with a smooth rounded base, constructed of natural wood, locally sourced Oregon Big Leaf Maple Burl; stabilized with resin to meet tough kitchen requirements and prevent shrinking or swelling; integral end cap with engraved Steelport logo

Contoured bolster with hand polished edges; smooth transition from bolster to handle for comfort and support of proper pinch grip hold

Made in USA with a lifetime warranty; carbon steel knives are not stain or rust resistant, hand wash and dry after each use

Set Includes
6" Chef's Knife
Oregon Maple Magnetic Sheath
Description
The Steelport Carbon Steel Chef's Knife is the most important tool in your knife kit, used for more than ninety percent of kitchen tasks. It's designed for everything from quick chopping in the kitchen, as the overall blade shape is defined by the best functionality and comfort. This particular chef's knife has a slightly shorter blade and more curve at the tip. A finger groove is added at the heel of the blade to allow for comfort and control, while holding the knife in the preferred pinch-hold. All the surfaces are processed to ensure a comfortable soft touch to help with long-term comfort. This includes rounding the spine of the knife.

Steelport knives have solid one-piece traditional drop forged construction from blade tip to end cap with an integral bolster for a well-balanced and long-lasting knife. Through Steelport's proprietary differential heat treatment, American 52100 Carbon Steel achieves an unmatched 65 Rockwell Hardness at the blade for exceptional long-lasting sharpness, while maintaining a softer 30HRC spine for lifelong durability. The bolster and spine are hand-polished smooth for a supremely comfortable pinch grip hold. The handles are contoured to accommodate any hand, offering a unique 2" height at the blade heel for finger clearance. All Steelport handles use Oregon Big Leaf Maple Burl, a locally sourced, naturally unique burl wood, stabilized with resin to meet tough kitchen requirements and won't shrink or swell.

Carbon Steel is for those who take pride in keeping their tools at peak performance through basic maintenance. Carbon Steel knives like Steelport are not stain or rust resistant. Day to day, it is as simple as remembering to hand wash and dry after each use.

A new Steelport knife is immediately recognizable by its dark two-toned patina with visible grain patterns and temper line. Significant time, energy, experimentation and believe it or not, coffee, went into developing that unique finish to meet our uncompromising standards of iconic design, functional detail and handcrafted locally. Steelport's goal is to provide the best advantages of a well patinated blade from their very first use, while also only using natural products to achieve that effect. Making a Steelport knife is both science and art. Unlike mass-produced stamped blades, every Steelport blade is handcrafted using traditional materials and methods, with some modern innovation, giving each knife a unique character. One of the final steps when making the blades is forcing a patina through a custom etching process, which serves multiple functional and aesthetic purposes. And thanks in part to the unique patina, every blade produces has visible reminders that it was carefully crafted by expert artisans, one blade at a time.

Combining time-tested traditional forging and knife making methods with modern innovations, Steelport is the only cutlery brand to offer broadly accessible premium carbon steel knives that are forged and handcrafted in the USA, using all American-made materials. Steelport is reintroducing heirloom American forged carbon steel cutlery, and delivers trusted performance, exceptional design and handcrafted individuality through rigorous attention to detail. Steelport is a small team dedicated to producing the finest trusted kitchen knives available. Steelport manufactures and sharpens each knife by hand in Portland, Oregon.
Specs
Made in Portland, Oregon
Lifetime Warranty

Blade Construction: American 52100 Carbon Steel
Handle Construction: Oregon big leaf maple burl with stainless bolster, single rivet and stainless end cap
Rockwell Hardness: 65 degrees
Edge: Approximately 15 degrees, double bevel

Blade Length: 6"
Blade Height: 2"
Overall Length: 11.5"
Spine Thickness at Heel: 3.5mm
Weight: 6.4 oz. (180g)
Item number: C6-1000WS