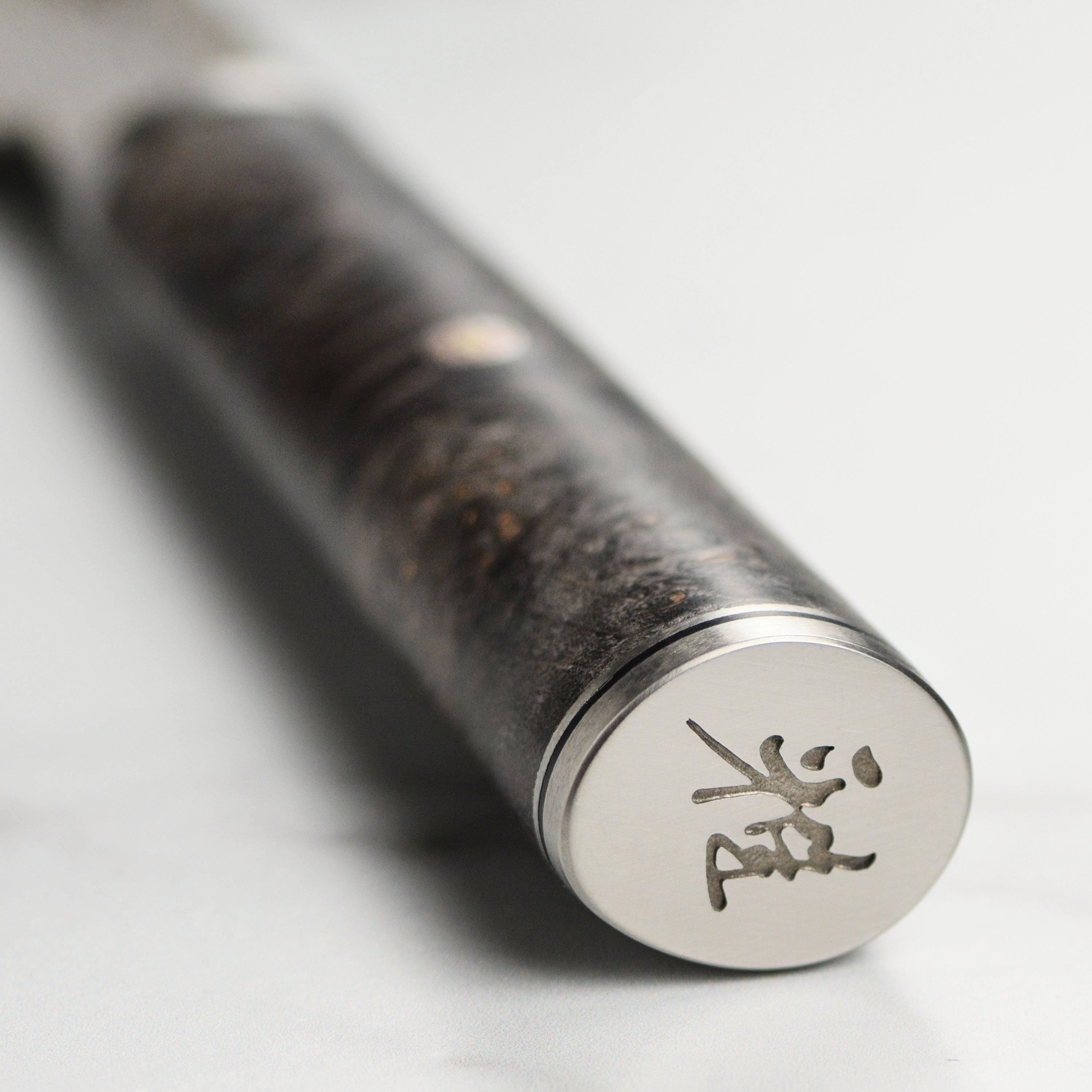 Miyabi Black 7" Rocking Santoku Knife
Low Stock • Only 10 left • Ships in 24 Hours
Features
Features a Cryodur Micro Carbide (MC66) powder super steel core blade surrounded by 132 layers of stainless steel with Damascus pattern
Ice-hardened blade at -196°C for extreme hardness and corrosion resistance
66 Rockwell Hardness; traditional Japanese blade hand-honed to a 9 to 12° angle
D-shaped handle made from prized Bigleaf maple and dyed a black ash color; mosaic accent pin complimented by a steel end cap with logo
Made in Japan with a lifetime warranty; hand-wash only
Description
The Miyabi Black Rocking Santoku Knife is designed for all cutting tasks including chopping, slicing, mincing, and dicing. The gently curved blade improves functionality for rocking and chopping. The Miyabi Black 5000MCD67 series is a stunning example of the finest Japanese craftsmanship. Features an extremely hard Micro Carbide powder super steel core for excellent cutting edge retention and sharpness. The core of the blade is surrounded by 132 outer layers of steel which make up the unique Damascus design pattern on the blade. The handle sits comfortably in the hand, allowing firm control and tireless working. It's recommended to hand wash only, and using glass, ceramic or stone cutting boards should be avoided. Made in Japan with a lifetime warranty.
Specs
Made in Seki, Japan
Lifetime Warranty

Blade Construction: 132-layer stainless steel Damascus with Cryodur Micro Carbide (MC66) powder steel core
Handle Construction: Karelian Birchwood with stainless bolster, rivets, engraved end cap, red spacers and Mosaic pin accent
Rockwell Hardness: 66 degrees
Edge: Approximately 9.5-12 degrees, double bevel

Blade Length: 7"
Blade Height: 1.87"
Overall Length: 12.75"
Spine Thickness at Heel: 2mm
Weight: 6.8 oz. (193g)

Item number: 34408-183
Total 5 star reviews: 2
Total 4 star reviews: 0
Total 3 star reviews: 0
Total 2 star reviews: 0
Total 1 star reviews: 0
100%
would recommend this product
Cymru and the F.

Verified Buyer

What is your gender?

Male

Fine knife ... not for the novice though

This is an extremely fine tool. Very balanced and quite light compared to other knives of this size. Great hand feel. The 66 hardness should be a warning to inexperienced owners. If improperly used, I can see this blade cracking or chipping early on in its life. Better to start w a German blade, or if Japanese is preferred then something more ~62 hardness (and perhaps a fraction of the price) is the better choice then dropping $350 on a single implement. Also, the 12 degree bevel Is so extremely sharp out of the box — this bad boy will take a finger off if you don't respect its exacting ability. I'm absolutely loving this upgrade to my collection.

What is your cooking skill level?

Advanced

What is your gender?

Female

Compared to the Miyabi Artisan SG2 Rocking Santoku

Knives are definitely a very personal preference. Don't even think of having a pretentious argument over which is better "German vs. Japanese". They are BOTH awesome for different jobs. It simply boils down to personal preference, and the right tool for the job at hand. I do A LOT of vegetable slicing, dicing, and cutting thin pieces of meat. The Rocking Santokus have become my all-time favorite knife shape & size. Very easy and comfortable to maneuver. If I could use a razor blade in most of my cooking, this knife right out of the box comes very close to that. I LOVE the weight and feel of this knife. The blade itself feels slightly thinner and slightly sharper than the Miyabi Artisan SG2 Rocking Santoku (which I also love). The handle is also slightly thinner - for those with medium to smaller hands - this will be a very nice feel for you. If you are familiar with using Shun or Miyabi, you will love this knife. The blade definitely feels a little more delicate - so if you are hard on your knives, clueless in how to use or take care of them, or haven't narrowed down your own personal preferences, I would not recommend this treasure to learn on . . . you're going to damage it and blame the knife. If you're still trying to figure it out - I recommend the Miyabi Artisan SG2 Rocking Santoku when it's on sale. I quit buying knife sets 20 years ago and have opted for that one, two, or three great "go to" knives. This is one of them!
Reviews Loaded
Reviews Added