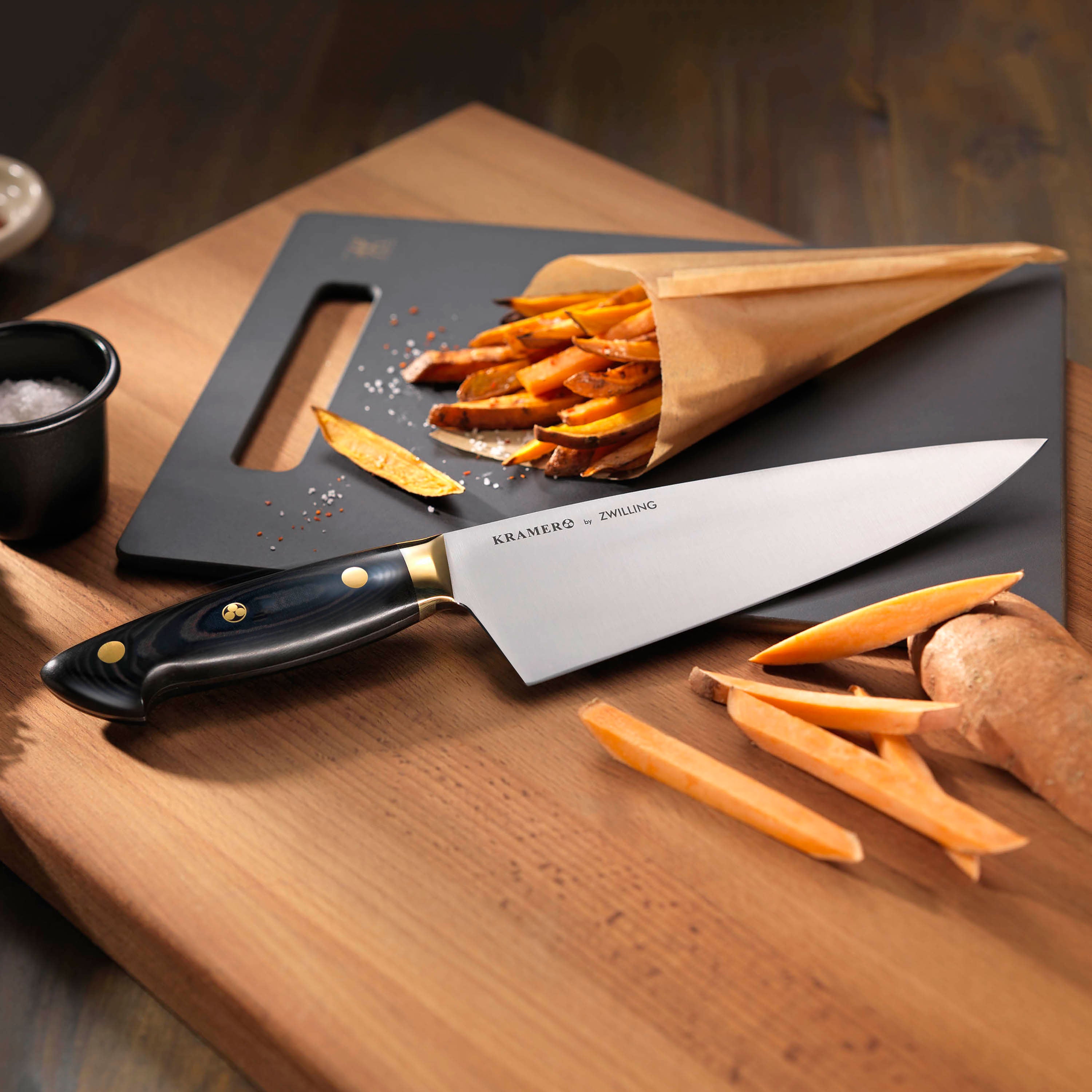 Kramer Carbon 2.0 7 Piece Magnetic Easel Knife Block Set
Low Stock • Only 4 left • Ships in 24 Hours
Features
Constructed of 52100 carbon steel; 61 Rockwell Hardness
Brass bolster with full tang tapered, triple riveted linen micarta handle and signature brass decorative center pin
Traditional 3-step hand-honed edge; 9 to 12° angle on each side for ultimate sharpness
Over time, the patina will act as a protective layer against rusting and discoloration as well as enhancing the beauty of these handcrafted masterpieces
Made in Seki City, Japan with a lifetime warranty
Set Includes
3.5" Paring Knife
5" Utility Knife
7" Santoku Knife
8" Chef's Knife
9" Slicing Knife
12" Double Cut Honing Steel
Magnetic Upright Easel Knife Block
Description
Zwilling is proud to partner with "The Master of the Blade" known as Bob Kramer. Bob Kramer Carbon 2.0 is a return to straight carbon steel, a material nearly lost to the home kitchen. Carbon steel requires knowledge and care to maintaining. In return for proper care, you will be rewarded with ultimate performance and keenness of edge that only carbon steel can deliver. Bob Kramer created his original artisan knives on his own studio workshop. He forged the best raw materials with a relentless pursuit of perfection into some of the most beautiful and sought-after cutlery in the culinary world. You can now experience the same unrivaled performance of a Bob Kramer original. The blade is complimented by a linen micarta handle and brass bolster with mosaic pin. <br /><br /><strong>Caring for your Bob Kramer Carbon Steel Knives</strong><br /><br />The steel composition in Bob Kramer Carbon Steel Knives are different from stainless steel and requires proper care. Gently wash with soap and thoroughly dry your knife after each use. Do not place in the dishwasher as it will harm the blade and cause the handle to crack. After washing, keep your knife in a universal block, on a magnetic bar, or in a plastic edge guard. Carbon steel knives have a tendency to react with highly acidic foods, such as lemons or tomatoes, which will cause the steel to turn dark gray to black if the acids are left on the blade. To avoid discoloring, rinse and wipe the blade immediately after cutting highly acidic foods. It's very important to wash and hand-dry thoroughly after each use. As the steel is exposed to different elements, it will begin to naturally oxidize, or patina. Over time, this patina will act as a protective layer against rusting and discoloration as well as enhancing the beauty of these handcrafted masterpieces. In fact, Bob himself doesn't like to force a patina to keep the color even. He just cleans and dries his carbon knives and lets the patina develop naturally. Bob finds the slightly uneven color aesthetically appealing. To force a patina, use a paper towel and rub vinegar evenly across the blade on each side. Let the vinegar sit for 5 minutes, then rinse off the vinegar and hand-dry thoroughly. Reapply as many times as needed to generate an even color. Do not let the vinegar dry on the knife. If your blade already has a patina in some areas, those areas will be farther along in the oxidation reaction and the color will be darker. To remove rust, water stains or unwanted patina, take a used scrubbing sponge with a little bit of detergent and rub lengthwise. If that doesn't work, take the same used sponge and use a powdered scrubbing compound. If that still doesn't work, use a new scrubbing sponge with cleaning compound. Beyond that, you will need to use a polishing kit. To keep your wood handle in good shape for many years and prevent dryness or cracking, Bob recommends a polymerized linseed oil. It's a food safe oil which will harden. Apply a small quantity with a paper towel, and let it soak into the wood for 20 minutes before wiping off the excess. Allow to dry completely before storing. Routine maintenance is essential for a high efficiency knife.
Specs
Made in Seki, Japan
Lifetime Warranty

Blade Construction: 52100 Carbon Steel
Handle Construction: Triple riveted linen micarta with brass bolster, rivets and signature brass decorative center pin
Rockwell Hardness: 61 degrees
Edge: Approximately 9 to 12 degrees, double bevel

Assembled Knife Block Set:
Length: 13.25"
Width: 8"
Height: 17.25"
Item number: 36700-707