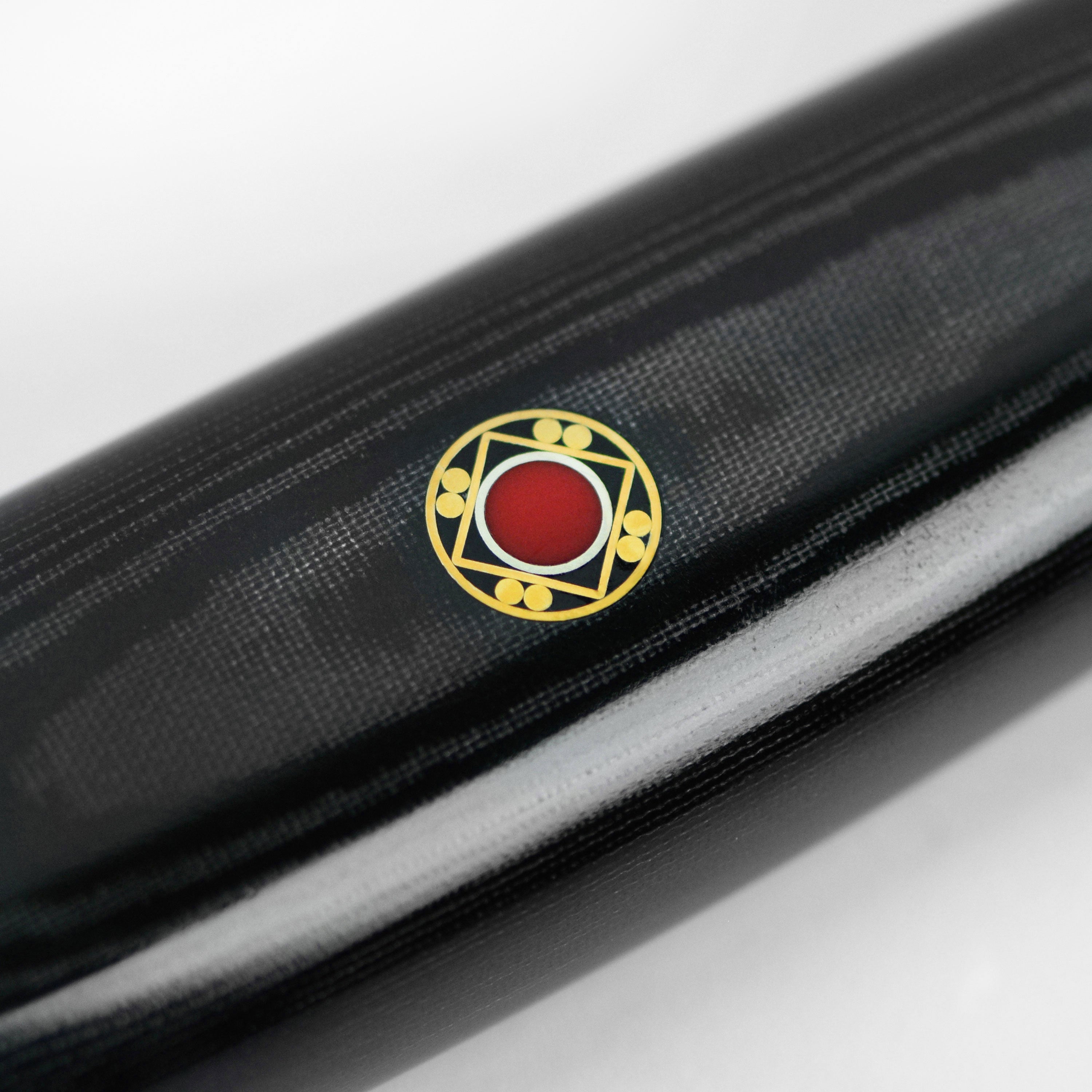 Enso SG2 5.5" Prep Knife
$124.95
Regular price
$249.95
off
In Stock • Ships in 24 Hours
Features
Constructed of Japanese SG2 Micro Carbide powder stainless steel; 63 Rockwell Hardness
101 layer stainless steel Damascus construction with SG2 steel core; Japanese kanji is hand engraved on the blade
Approximately 12° blade angle; double-bevel edge for both right and left-handed use
Black canvas micarta handle with 18/10 stainless steel bolster and engraved end cap, red spacers and Samurai Crest
Handcrafted in Seki City, Japan with a lifetime warranty; c

lean with warm water and mild detergent
Description
The Enso SG2 Prep Knife is designed for peeling and chopping vegetables and fruit, slicing meats, cheeses and more. Enso SG2 features an extremely sharp cutting edge. Constructed of Japanese SG2 Micro Carbide powder stainless steel, which is enveloped by 101 layers combined with alternating soft and hard stainless steel. The corrosion resistant powdered carbon steel has an unprecedented 63 Rockwell hardness. Powdered steel is used because it ensures a high degree of purity and strength. The resulting blade is extremely hard, ensuring an exceptionally sharp cutting edge. The surface impresses a fascinating Damascus design pattern. The handle is made of black canvas micarta with a stainless steel bolster, red spacers and Samurai Crest. The engraved end-cap of the handle is made of 18/10 stainless steel, which provides outstanding stability and balance. Handcrafted in Seki City, Japan with a lifetime warranty.
Specs
Made in Seki, Japan
Lifetime Warranty

Blade Construction: 101-layer stainless steel Damascus with SG2 powder steel core, hand engraved Japanese kanji
Handle Construction: Black canvas micarta with 18/10 stainless steel bolster, engraved endcaps, red spacers and Samurai Crest
Rockwell Hardness: 63 degrees
Edge: Approximately 12 degrees, double bevel

Blade Length: 5.5"
Blade Height: 1.62"
Overall Length: 10.25"
Spine Thickness at Heel: 1.9mm
Weight: 4.1 oz. (116g)
Item number: 35721
Total 5 star reviews: 3
Total 4 star reviews: 1
Total 3 star reviews: 0
Total 2 star reviews: 0
Total 1 star reviews: 0
100%
would recommend this product
What is your gender?

Male

Perfect all around knife for smaller tasks

After some online video reviews highlighted the excellent all around features of this knife, I ordered it to fill in as an alternative to a larger chef's knife for smaller tasks. After about a month of use, I have to agree with prior reviews about this knife. It is the perfect size and shape for just about any task . . . in fact for those with smaller hands and who find larger chef's knives difficult to work with, this might be the perfect all around knife. It is absurdly sharp out of the box, and has not required any honing or sharpening in the course of the month I've owned it. If I had to pick one knife to complement my larger chef's knife, this would be it. Fit and finish are excellent as with all Enso knives I've owned.

What is your gender?

Male

Razor sharp out of the Box !

I received my order from "Cutleryandmore" promptly like always and couldn't believe how sharp this Enso knife is! I shaved hair off my forearm just to see how sharp this work of art really was and I now have a bald spot on My forearm. It glides through mushrooms and potatoes and anything else I put on the cutting board with ease. I've only had it for a month but it's still as sharp as the day I received it!

The knife feels great in your hand and is light weight, nicely balanced and the 101 layers of Damascus steel make this a beautiful work of art!

What is your gender?

Male

Good Little Knife

Before purchasing this item, I was considering a small santoku for general prep around the kitchen. I decided to be adventurous and opted for this mini bunka instead. Out of the box, it was fairly sharp, with just a bit of toothiness towards the heel, which is to be expected. A little bit of strop work, and I was back in business. Visually, it's a very impressive knife. Other companies (I won't mention names) try to do the whole damascus thing with lackluster results; the Enso prep knife is truly stunning. There is one caveat which must be brought up, though. If you have larger hands and are used to holding the knife strictly by the handle, this is probably not the knife for you. The handle is a bit on the small side (think a Buck 102 vs. a 119 and you get the idea). If you utilize a pinch grip, however, this knife is highly manageable. The balance point on this knife is just behind the bolster. Were Enso to make the handle any larger on this model, I feel the balance would be way off point. All things considered, I am really happy that I took a chance on this knife. Plus, my lady really enjoyed cutting with it. She said it fit her hands perfectly and sliced through things exceptionally well. And to her credit, she didn't even roll her eyes when I gave her the whole "no lateral movement when chopping, no scraping items off the board with the edge" lecture. Good thing she doesn't know about Ryky Tran's brick, I suppose.

What is your cooking skill level?

Intermediate

What is your gender?

Male

Beautiful

Beautiful knife. I do not think that the difference off the SG2 still makes it worthy the price compare to the V10 steel of the HD series.unless, you are willing to pay for the cosmetic differences.
Reviews Loaded
Reviews Added