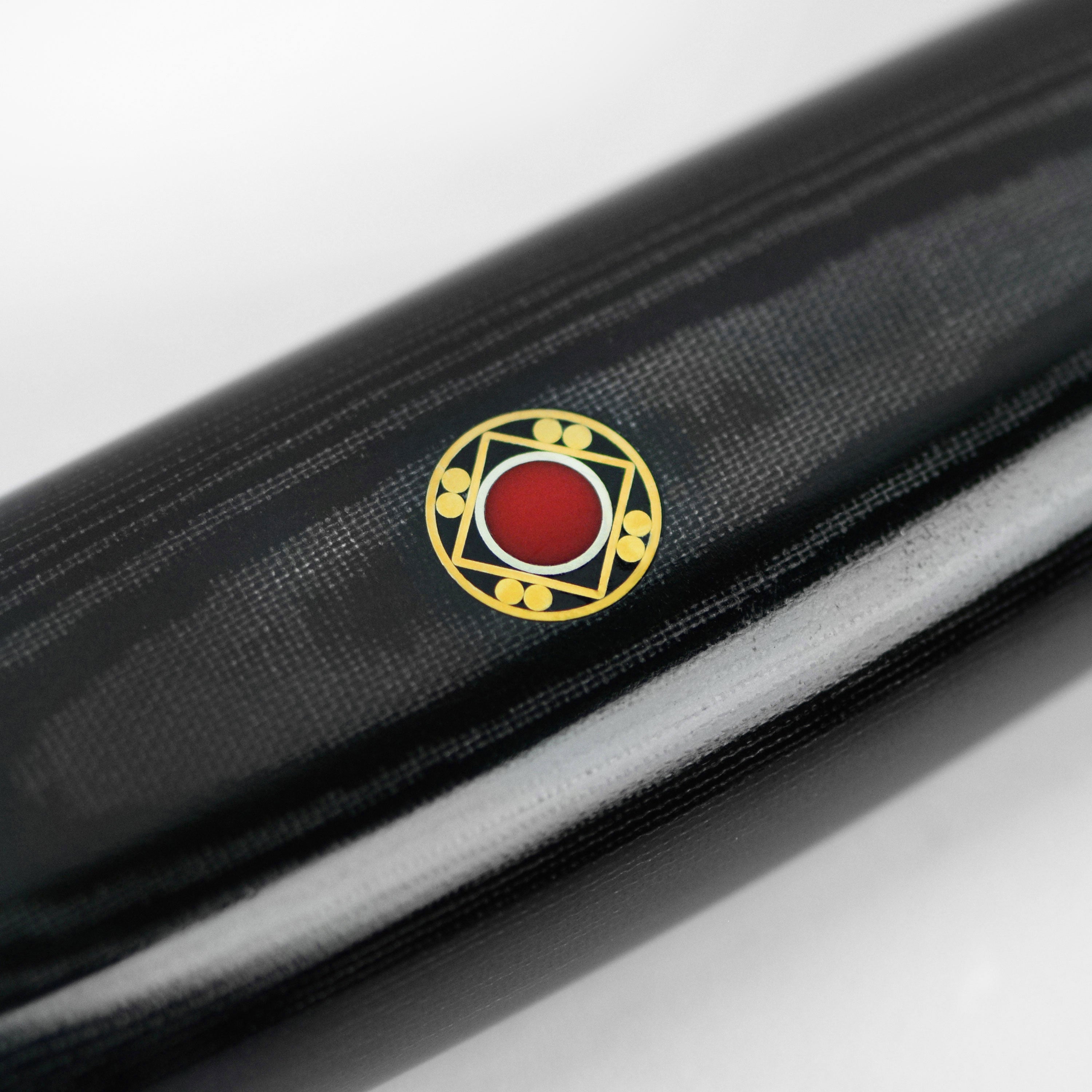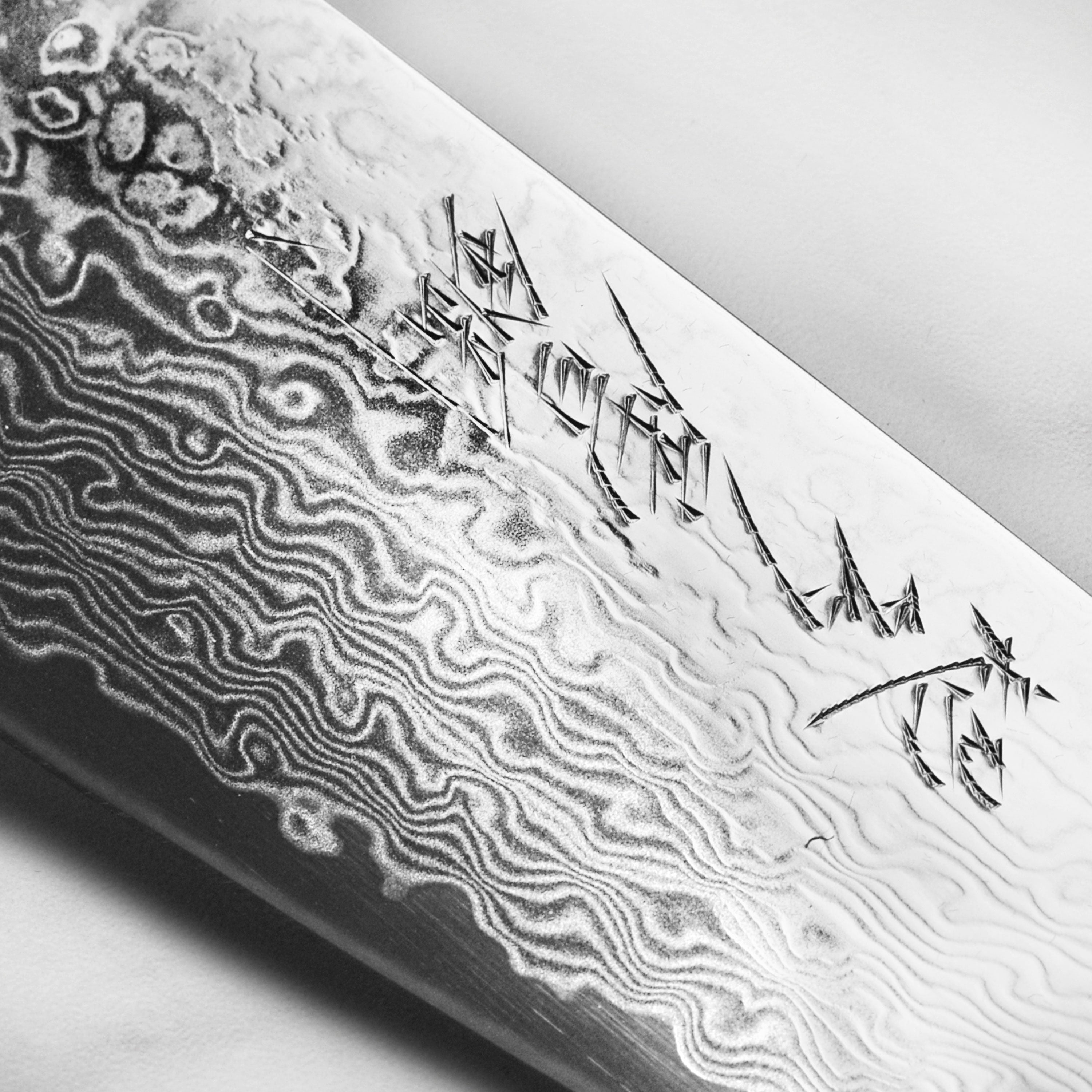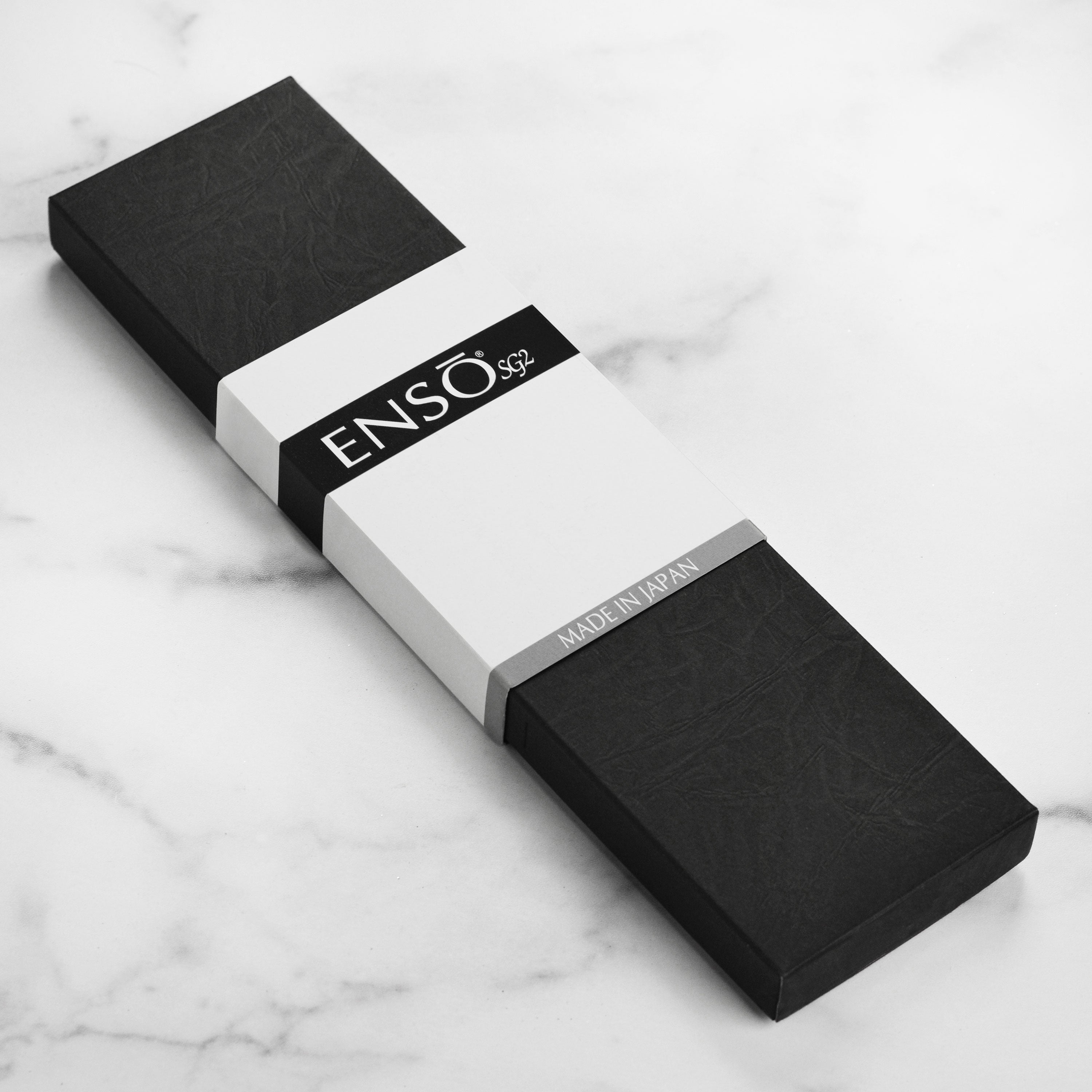 Enso SG2 7" Bunka Knife
$199.95
Regular price
$299.95
off
In Stock • Ships in 24 Hours
Features
Constructed of Japanese SG2 Micro Carbide powder stainless steel; 63 Rockwell Hardness
101 layer stainless steel Damascus construction with SG2 steel core; Japanese kanji is hand engraved on the blade
Approximately 12° blade angle; double-bevel edge for both right and left-handed use
Black canvas micarta handle with 18/10 stainless steel bolster and engraved end cap, red spacers and Samurai Crest
Handcrafted in Seki City, Japan with a lifetime warranty; c

lean with warm water and mild detergent
Description
The Bunka translates to "culture", which is a cross between a Nakiri and Gyuto Knife. This all-purpose tall blade Enso SG2 Bunka Knife is suitable for cutting fruits, vegetables, fish, meat and more. The belly of the blade makes this the ultimate push cut master for either long or short cuts. The triangular tip area is particularly useful for detailed work. Enso SG2 features an extremely sharp cutting edge. Constructed of Japanese SG2 Micro Carbide powder stainless steel, which is enveloped by 101 layers combined with alternating soft and hard stainless steel. The corrosion resistant powdered carbon steel has an unprecedented 63 Rockwell hardness. Powdered steel is used because it ensures a high degree of purity and strength. The resulting blade is extremely hard, ensuring an exceptionally sharp cutting edge. The surface impresses a fascinating Damascus design pattern. The handle is made of black canvas micarta with a stainless steel bolster, red spacers and Samurai Crest. The engraved end-cap of the handle is made of 18/10 stainless steel, which provides outstanding stability and balance. Handcrafted in Seki City, Japan with a lifetime warranty.
Specs
Made in Seki, Japan
Lifetime Warranty

Blade Construction: 101-layer stainless steel Damascus with SG2 powder steel core, hand engraved Japanese kanji
Handle Construction: Black canvas micarta with 18/10 stainless steel bolster, engraved endcaps, red spacers and Samurai Crest
Rockwell Hardness: 63 degrees
Edge: Approximately 12 degrees, double bevel

Blade Length: 7"
Blade Height: 2"
Overall Length: 12.25"
Spine Thickness at Heel: 1.8mm
Weight: 6.8 oz. (195g)
Item number: 35731
Total 5 star reviews: 8
Total 4 star reviews: 0
Total 3 star reviews: 0
Total 2 star reviews: 0
Total 1 star reviews: 0
100%
would recommend this product
What is your cooking skill level?

Advanced

What is your gender?

Male

Sharpest Knife

I recently purchased the Enso 7inch Bunka knife and I couldn't be happier. The knife is super sharp, light weight and well balanced. It holds an edge extremely well and I've owned many great knives including Shun and Global and this may surpass them all in terms of performance!

What is your cooking skill level?

Advanced

What is your gender?

Male

Best knife so far

Got it on sale month ago. Put it in use immediately it's razor sharp be careful! With my continuing knives evolution I can certainly admit a big difference between Chinese made Copies and originals made in Japan. After few uses of 73 layers Damascan steel Chinese knife showed me microscopic dents right on the cutting edge of the knife, That was upsetting also it much heavier than Japanese. kudos to Japan! Looks like they know what they doing. and no offense to great country of China! Giving you pictures of both and thank you!

What is your gender?

Male

Stunningly beautiful and sharp

This is my first Bunka knife and I have been using it now for about a month. The fit and finish is outstanding and it comes incredibly sharp out of the box . . . I found no need to give it an extra strop or finish on a high grit stone. I use it for the most part as a substitute for a similar sized nakiri, and this knife is a bit thinner, lighter, and more delicate feeling than the nakiri. It makes short work of vegetables of all sort. Over a month of use, it feels just as sharp as the day I took it out of the box and hence haven't had tried sharpening it yet (I've been warned that SG2 is going to be more difficult to sharpen). The handle is beautiful and comfortable, although interestingly, feels a bit smaller than the more plain looking handles on the Enso HD knives, which I actually prefer over the handles on the SG2. Bottom line though is that this a great value for an SG2 knife, comes incredibly sharp out of the box, and is a joy to use. The bunka shape strikes a nice balance between a nakiri and a traditional western chef's knife.

What is your cooking skill level?

Intermediate

Enso SG2 Bunka

First high end knife purchase for myself, a home cook. Beautiful knife. Very sharp out of the box. Great balance in the hand.

What is your gender?

Male

Yeessss

Beautifully made. Fit and finish are everything I could have hoped for. The handle is daintier than I'm used to but, for me, a pinch grip is probably best anyway for a blade of this design. It feels lighter than its 6.75 oz. weight. Balance point is right where it should be, at the choil. The knife arrived very sharp. After a couple of weeks as my go-to knife for vegetables, the edge is holding up nicely. I really like this knife.
Reviews Loaded
Reviews Added