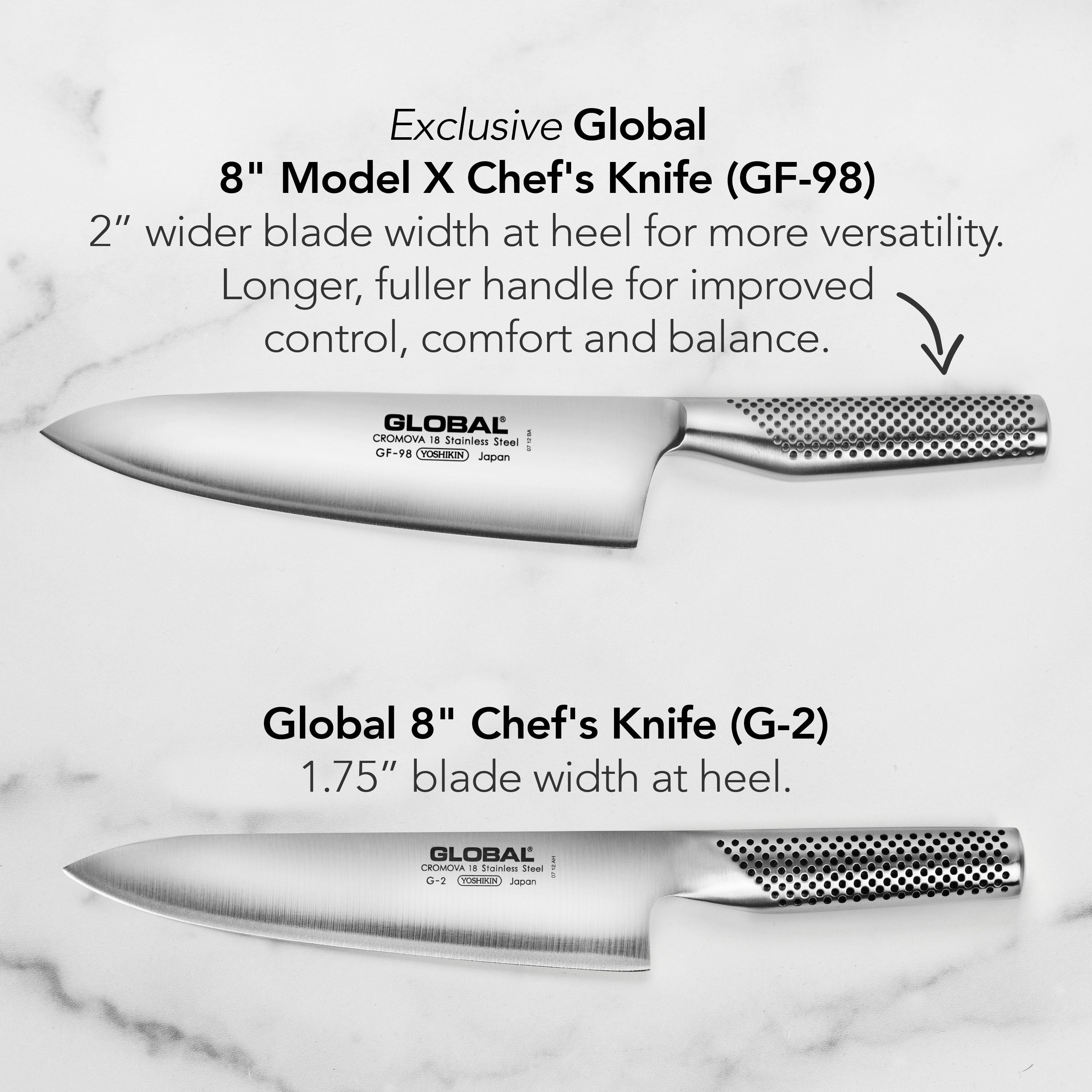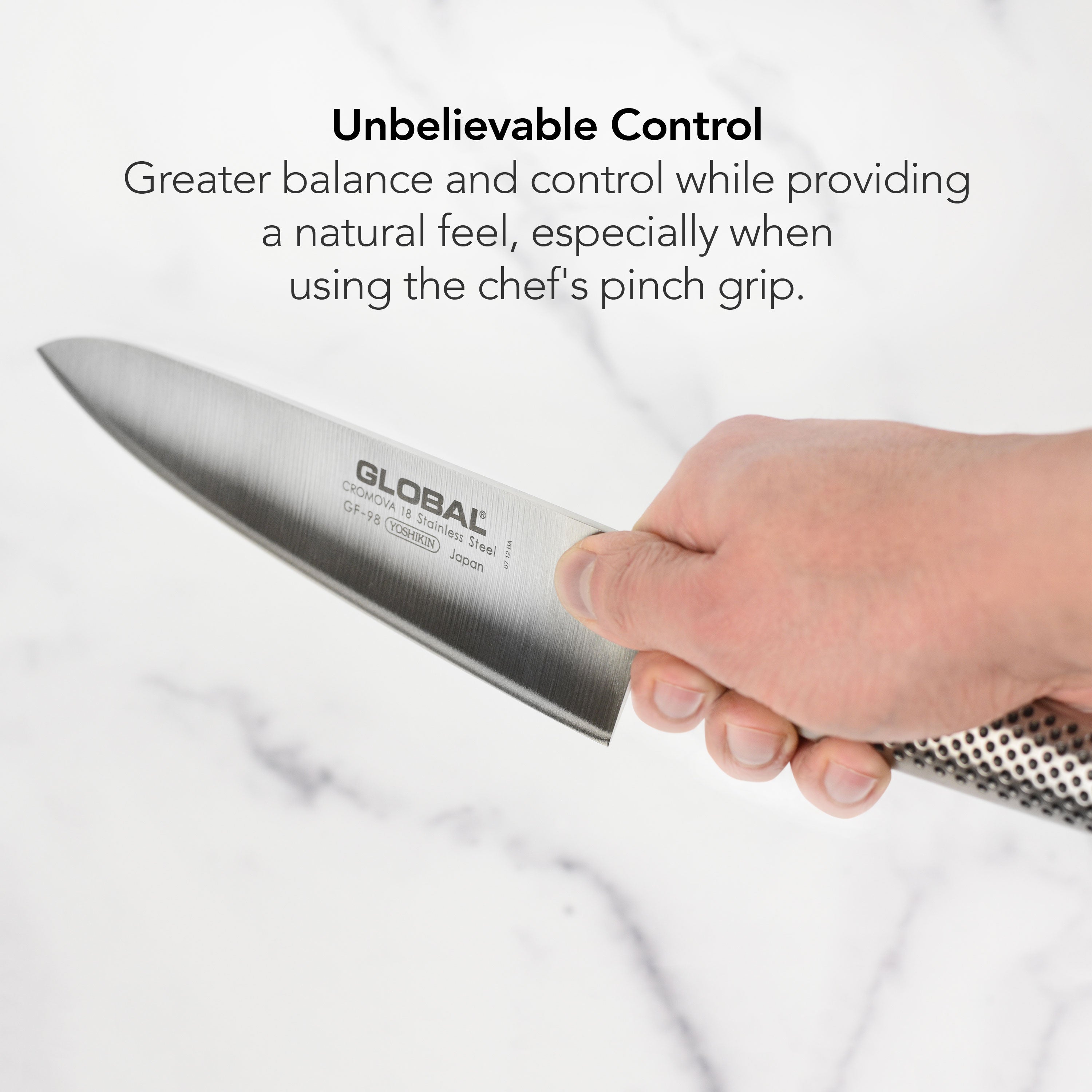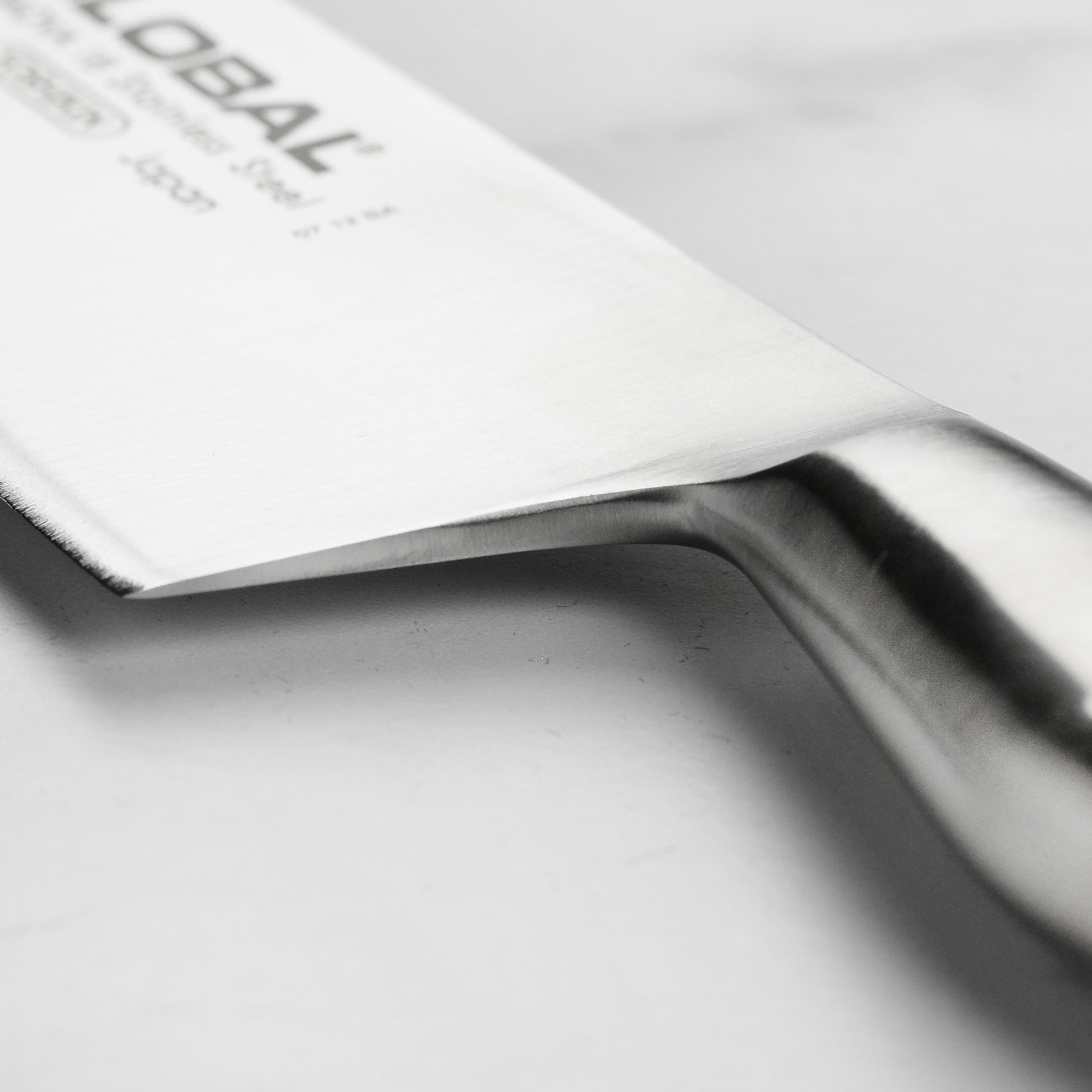 Global 8" Model X Chef's Knife
$119.95
Regular price
$159.95
off
In Stock • Ships in 24 Hours
Features
Cromova 18 high carbon stainless steel wide blade is made up of chromium, molybdenum and vanadium
10 to 15° double bevel blade edge is ground on each side; single piece of steel for unsurpassed performance
Ice-tempered, Rockwell Hardness of 56-58° holds a unique razor-sharp convex edge longer
Stainless steel hygienic handle with signature dimple pattern offering a comfortable, slip-resistant grip
Improved ergonomic handle is filled with sand to achieve the desired weight and deliver the perfect balance
Made in Japan with a lifetime warranty; hand-wash with gentle dish soap and dry
Description
We worked directly with Global to improve upon one of the best selling Japanese chef's knives ever made. Our <em>Exclusive</em> Global Model X 8" Chef's Knife is the multipurpose workhorse of the kitchen, providing the ultimate balance. Perfect for mincing, cutting, chopping, slicing and prep work. Pinch grip for unbelievable control, ideal for precise chopping.<br /><br />Global knives contain two innovative features, their edge and the way they are balanced. The most important detail of any knife is its edge, and the Global edge is truly its signature. Global knives are sharpened or ground steeply to a point, and to an acute angle while resisting rust, stains and corrosion. The straight edge results in a dramatically sharper knife which stays sharper longer. The edge on a Global knife is so large and prominent that it is easily seen with the naked eye and extends a quarter of an inch or more up from the tip of the knife.<br /><br />From its modest inception, Global has developed into one of the most successful brands of professional kitchen knives in the world. Still crafted by hand in Yoshikin's factory in Niigata, Japan, Global knives are manufactured to extremely high and exacting standards. Global has attracted much acclaim over the years and received numerous awards. A thousand years ago, Japanese sword-smiths developed the high art of sword making to provide strong, sharp blades for the Samurai, the feared warrior caste. Like the Samurai swords before them, each knife is carefully weighted to ensure perfect balance in the hand. Global knives have been hand crafted in Japan using the same traditions and developed using the best raw materials available.
Specs
Made in Japan
Lifetime Warranty

Blade Construction: Cromova 18 high carbon stainless steel made of chromium, molybdenum and vanadium
Handle Construction: Stainless steel with dimple pattern and filled with sand for balance
Rockwell Hardness: 56 to 58 degrees
Edge: 10 to 15 degrees, double bevel

Blade Length: 8"
Blade Height: 2"
Overall Length: 13.25"
Spine Thickness at Heel: 4mm
Weight: 9.2 oz. (262g)
Item number: GF-98
Total 5 star reviews: 6
Total 4 star reviews: 2
Total 3 star reviews: 0
Total 2 star reviews: 0
Total 1 star reviews: 0
100%
would recommend these products
Reviewing

Global 8" Model X Chef's Knife with Hollow Edge

What is your cooking skill level?

Intermediate

What is your gender?

Male

Beautiful knife

Perfect all around knife for the kitchen

Reviewing

Global 8" Model X Chef's Knife with Hollow Edge

What is your gender?

Male

Fine Heavy-duty Chef's Knife

The Global Model-X is a good, heavyweight chef's knife. Given that it carries the GF label, it is a forged knife, according to Global. Nicely finished and sharp as received as Global's typically are. Scallops look very cool--maybe help with sticking too. Blade is quite thick on its back in front of the handle and does not taper as rapidly toward the tip as usual. This is good for pushing on back of the blade with the spare hand. Extra width and weight of blade is nice for smashing garlic with the side of the blade and swinging blade to chop thick tough vegetables. Very cool that C&M developed this knife with Global and is exclusive to them.

Reviewing

Global 8" Model X Chef's Knife with Hollow Edge

What is your gender?

Male

Global 8 inch Model X Chef's Knife with Hollow Edg

I use this knife every day, and it is a joy to use. It is balanced, wonderful in my hand, and it cuts in a super fashion. It also holds it razor sharp edge wonderfully. I know it is a "technicality" but the metal alloy in this knife is the very best for a knife. I have been a surgeon for over 48 years and I know "blades" and this is a super one.

America's Test C.

Verified Buyer

Reviewing

Global 8" Model X Chef's Knife

What is your gender?

Male

I'm so glad I bought this knife!

The first time I saw the Global 8" Model X Chef's knife on the Cutlery and More website, I thought it might be the perfect chef knife for my needs. I'm already the very happy owner of a Shun Classic 8" chef knife, the very first Japanese chef knife I've ever owned, but as beautiful as that knife is, it has to be handled with care due to it's thin, hard steel. So I thought it would be nice to have a "backup" chef's knife, that was just as sharp, but more durable and able to take more abuse, and this Global Model X seemed to fit the bill exactly.

The knife itself is just a masterpiece of modern industrial design. Made from Cromova stainless steel from tip to butt, it has a solid, confident feel. The dimple textured handle is surprisingly non-slip, and very ergonomic. The balance is perfect, and the workmanship exemplary.

Slicing and dicing with this knife is a joy. As soon as I took it out of the box, I gave it a few passes on my leather strop, and then tested it's sharpness, and was just blown-away! This knife is SCARY SHARP right out of the box. My first use for it was to prep vegetables for a batch of chicken soup, and it handled onions, celery and carrots with ease. It's an absolute joy to use, so much so, you feel a little let down having run out of food to cut up!

While one might think it's a heavy knife, it's really not that bad at all. My "light" Shun Classic 8" chef knife is 207 grams, where as the Global Model X is 244 grams. Yes, you can feel…

Reviewing

Global 8" Model X Chef's Knife with Hollow Edge

What is your cooking skill level?

Advanced

What is your gender?

Male

Perfect knife, from a perfect shop.

I love the size, shape, feel, and sharpness of Global Model X. It's incredible.
Reviews Loaded
Reviews Added