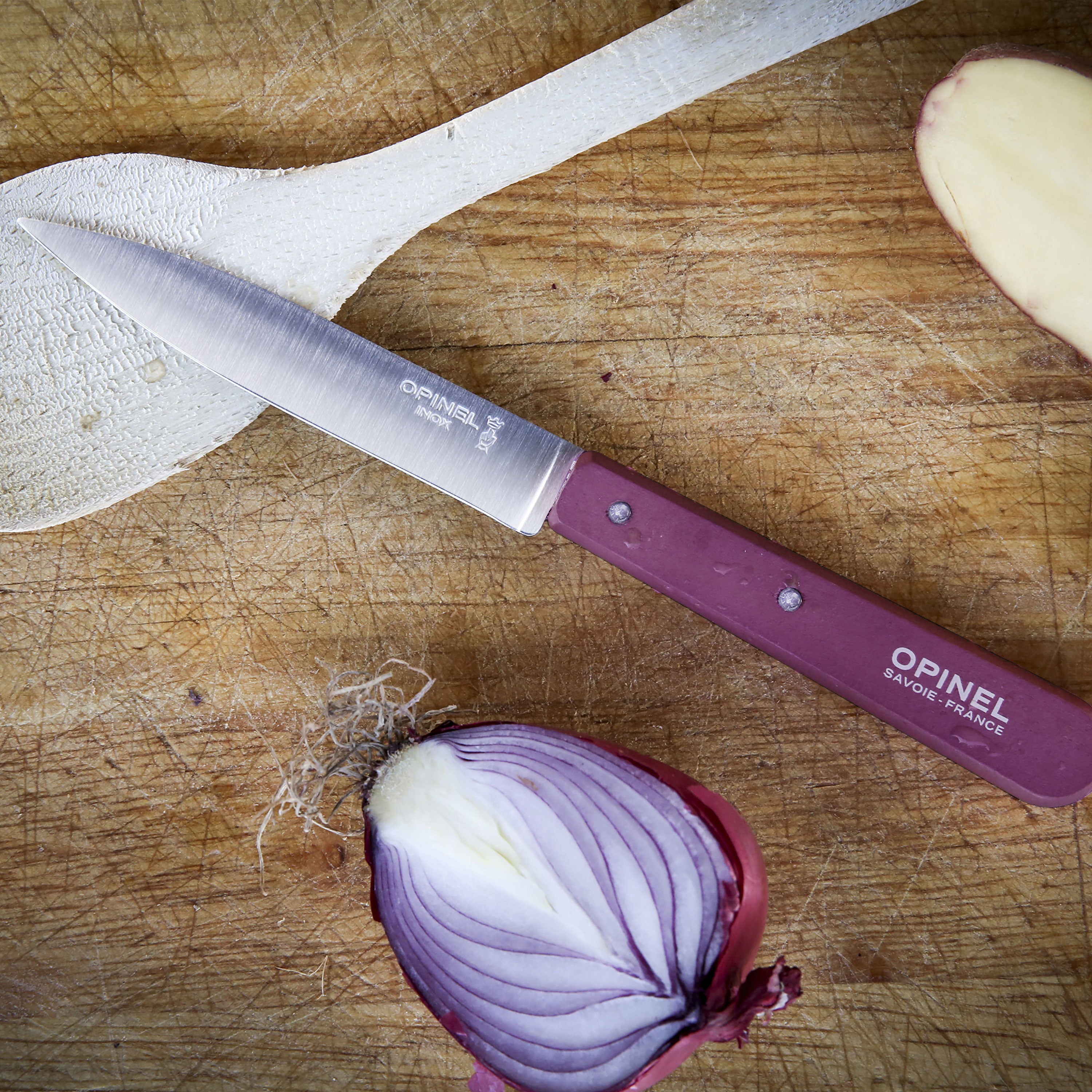 Opinel 4 Piece Stainless Steel Paring Knife Set
Low Stock • Only 12 left • Ships in 24 Hours
Features
12C27 Swedish Sandvik brushed stainless steel blades
Mirror polished solid stainless steel rivets
The stained hornbeam wood handles provide an ergonomically designed grip
Dishwasher safe, hand washing recommended
Made in France, full warranty against manufacturing defects
Set Includes
3.75" Apple Green Paring Knife
3.75" Plum Paring Knife
3.75" Skyblue Paring Knife
3.75" Tangerine Paring Knife
Description
The Opinel Essentials Paring Knife Set is perfect for chopping, peeling, slicing, and paring fruits, vegetables and trimming meats. Since 1890, generations of Opinel craftsmen have been providing a traditional style to bring you authentic quality knives. 95% of the wood handles come from French forestry holdings. The logs are selected for the quality of their wood. The handle is made from timber sections using machines to cut the length, hooping, shaping, bevelling the ends, sawing the slot, and sanding, followed by varnishing. The stainless steel blade with the addition of chrome, makes it highly corrosion-resistant while providing an excellent cutting edge. The blade is cut out from a strip of steel, and heat-treated to alter the internal structure of the steel, making it very hard. This raw blade then passes through a series of specific grinding wheels in grinding-polishing machines. This process gives the unique domed Opinel profile which ensures unrivalled strength and cutting edge.
Specs
Made in France
Manufacturing Warranty

Blade Construction: 12c27 Swedish Sandvik brushed stainless steel
Handle Construction: Stained hornbeam wood

Blade Length: 3.75"
Overall Length: 7.62"
Item number: 001381